EUGENE FIGURE SKATING CLUB'S
OSC-Sponsored Awards
In 2013, the Oregon Skating Council began sponsoring three awards that are selected and given at the individual club level: the 'Most Improved Skater' award, the 'Volunteer of the Year' award, and the 'Inspiration' award.The Eugene Figure Skating Club's governing board will select this year's award winners, based on the 2017-18 skating season.
Each of the award recipients will receive a commemorative plaque from the Oregon Skating Council, presented by the EFSC President during an awards ceremony.
---
Eugene FSC Code of Conduct, Conflict Resolution Policy and other Policies and Procedures
The EFSC has a zero-tolerance policy for unsportsmanlike behavior. Members, skaters, coaches, officials, parents and supporters should continually raise the standard of behavior on and off the ice. Membership in EFSC is a privilege and and is a source of pride. Program Participation requires that all members accept certain responsibilities. If you wish to file an official complaint, please refer to these two forms
EFSC-CodeofConduct-050718 and Conflict Resolution Policy (ver.060917) (in pdf formats) fill out forms, attach with email of your complaint that relates to the code of conduct, and send it to the Board President.
Zero Tolerance Addendum v3
(click on image to enlarge or link above to print)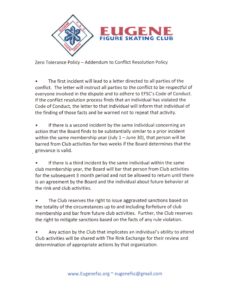 Please see all other Club Forms on Club Information page
---
Eugene Figure Skating Club (EFSC) Constitution: EFSC Constitution – May 2015
---
Apprentice application: EFSC Apprentice Application 2018
For all of you who aspire to be a skating apprentice, we have set up some guidelines and rules as to how you can participate.
Download and print this application and turn it in to a Eugene Figure Skating Board member for approval!


---
February 1, 2017
To all Adult Eugene Figure Skating Club (EFSC) Members and Friends:
Several EFSC Club members and Friends (parents, volunteers and others within the EFSC Community) approached the EFSC Board of Directors with their complaints and concerns regarding other Club Member and Friend behavior during the Fall 2016 Term. As a result, the Board has heard from several people that they do not wish to come to the rink, or that the rink causes them stress, anxiety and fear.
This is not acceptable.
EFSC is devoted to its Mission: to support skaters of all ages, abilities and levels.
To have the club and rink environment continue in this way is detrimental to the club and to everyone's desire to discover and learn new skills and talents, and have fun. If we, as a club, and as a community, can't deliver on those aspirations, there is no reason for the Club to exist. Therefore, I am asking all Club Members and Friends for their full commitment to support and encourage the EFSC's mission.
Further, EFSC and our Learn to Skate USA program are run solely by volunteers. That is rare and extremely challenging. No one- parent, skater, volunteer or club member does this for any other reason than a love for skating and a commitment to provide the only skating program in the Southern Willamette Valley. We do this as volunteers to keep skating as affordable as we can. With that, the Club depends on Club Members' and Friends' commitment to work together to deliver our program.
Club members, volunteers, parents and skaters will disagree on how to deliver and run our programs. However, EFSC's mission and success depends on everyone's support and encouragement in our activities and relationships. To do that, the Board expects Members and Friends to be positive and supportive of one another at the rink, when acting on behalf of the club, or when interacting with other club members, parents and skaters in our community. If any Member or Friend truly needs to critique the actions or behavior of another member of our community, they should always be aware that they can either build someone up or tear them down. Building up the community is everyone's responsibility.
Given the events of this past fall, the Board recognizes and understands that sometimes we fail; sometimes we make mistakes; and sometimes we act in a way that does not uphold our mission and our commitment. That can and does lead to conflict. That is why we have implemented a Conflict Resolution Policy and a Code of Conduct. Both of these documents are attached. If you have not already signed a Code of Conduct, please sign the above Conflict Resolution Policy and Code of Conduct and return it to a Board Member at the rink or scan and email it to: efsc.clubpresident@gmail.com.
In addressing conflict, we encourage members of our community to attempt to solve their own issues. Our volunteer board does not have the time or resources to both run the program and solve everyone's conflicts.
When community members wish to share their complaints with the Board, the Board requires a Conflict Resolution Form to be attached if they intend to invoke EFSC's grievance process.
Further:
From now on, EFSC will adhere to a zero tolerance policy for violations of our Code of Conduct.

The Board of Directors has attached the following documents to this letter:
Code of Conduct
Conflict Resolution Policy
Explanation of Zero Tolerance Policy
As a Board, and as a community, please be assured that we are committed to and adhere to fostering a club climate that supports the delivery of our programs.
Sincerely,
David Green (EFSC past president)
EFSC Board of Directors
---
---